Rare Collectible Memorabilia
(Click on certain pictures for larger view, hit back button to return)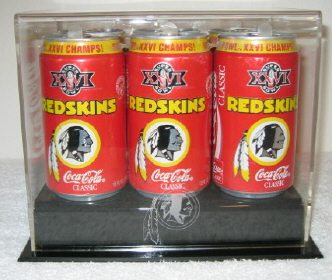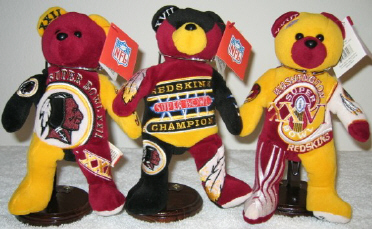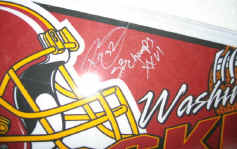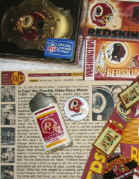 Vintage T-Shirt
SB XXII: 1987 NFC Champs
SB XXVI: 1991 NFC Champs
Ready to be mounted and framed
All 3 Redskins Themed Wheaties Boxes
Redskins have appeared on three of these highly collectible cereal boxes.
Each box is still sealed, 1st run.
Mint condition with original contents still in box.
Each separate box comes in the "SportsCubes, LC" clear acrylic container.
(The official container for Wheaties boxes)
Official NFL Ball From SUPER BOWL XXVI
Never used during play, Win over Buffalo Bills
Vintage Coke Bottles (Still sealed with original contents)
Includes: 50th Anniversary ~ Super Bowl VII
Super Bowl XVII ~ Super Bowl XXII
6-Pack Coke from Super Bowl XXVI
Commemorative Edition, Still in original plastic figuration
Designer acrylic display with etched Redskins emblem on front
Nerf Super Bowl XXVI Spiral Football
Special Limited Edition Release, from Jan. 26 1992
All 3 Redskins Super Bowl Win Chrome Pocket Pro's
Limited Edition Commemorative Helmets, Pro-Line Series
Complete Super Bowl Beanie Babies Collection
Highly collectible Bears, in Mint Condition.
1st Edition Redskins Themed Beanie Baby
1st Year that these NFL Licensed bears came out
RARE! Vintage Redskins Seat Cushion (2 of Them!!!!)
1981 Super Bowl Year (with feather tucked, Very Rare!!!)
Official Seat Cushion from Super Bowl XXVI
Complete Vintage RC Cola Redskins Collection (Circa 1976)
Including: John Riggins, Joe Theismann, Ken Houston, Charley Taylor
Chris Hanburger, Mark Moseley, Calvin Hill, George Starke, Pat Fischer, etc.
MVP SB XXVI: Mark Rypien Collector Plate
Very Rare, Ceramic Hand-Painted
Gold trim plated with Rypien's signature in gold
Redskins Crystal Display
Crystal with etched Redskins emblems inside
Stand included which rotates, changes colors and has blink options
Vintage 'Starting LineUp' Super Star Poster Series
Includes: Mark Rypien ~ Earnest Byner
Pull-Out Posters, Still Folded, Mint.
Redskins Collector Marble
In sealed acrylic case
Redskins Music Sheet for "Hail To The Redskins"
Official Music Sheet from the '70's
As are given to the Marching Band
Two of them; one in protected plastic and other is matted and framed.
Four 'Marveal' Collector Paper Airplanes
Very Rare! In two acrylic displays (great detail)
Vintage Collectible Redskins Fishing Lure
By Oxboro, Officially Licensed, Original package
Vast collection of glasses and mugs
Including vintage rare collector glasses from all three Super Bowl wins.
Collector Steins, coffee mugs, full glass and shot glasses.
Vintage Box Game Of Checkers
Mint. Pieces still in bags. Redskins vs. Cowboys
NFL Ornament Collection
Redskins Issue Collectible
Vintage Redskins Indian Doll (1982, Rare!)
Vintage Super Bowl XXVI Hat
NFL Licensed, Official Issued
Vintage Redskins #1 Coffee Mug
Vintage Mega Phone (circa 1985)
Redskins Training Camp Helmet (Limited Edition : Special Series)
Mini Helmet by Riddell, Pro-Line Design
"Fed Ex Field" by the Danbury Mint